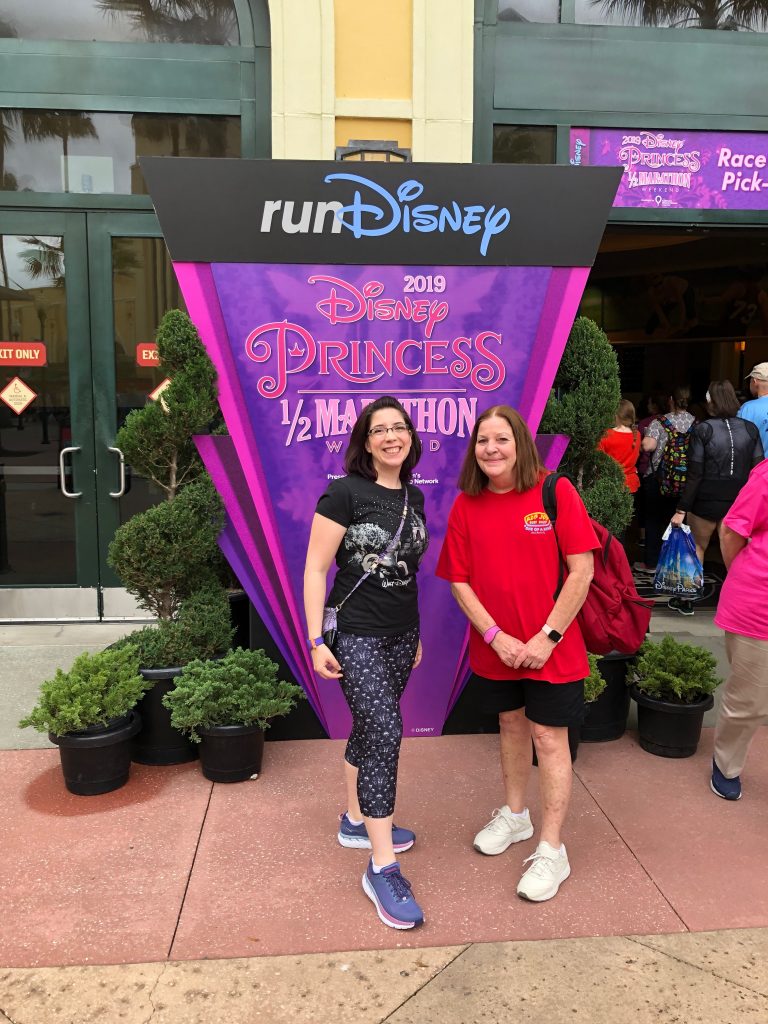 I've been considering doing runDisney events for a while now thanks to my friend and fellow streamer, Imperialgrrl. I'm a massive Disney fan (aka "Mousejunkie") and an annual passholder even though I live in Texas. I signed up for the Princess 5k (a skant 3.1 miles) last Summer even though the race wasn't going to be until mid-February. I also brought my mother with me for a kid-free getaway weekend. We were able to nab a 5k bib for her the Tuesday before the race, so she was able to do the event with me.
We got in Thursday morning, checked in to our resort and headed right for the ESPN center for the Expo. Each resort will have buses specifically for the Expo and race events. You just walk out to the main bus depot and they will be on the far end. From what we could tell, all of those buses were charter buses, not the typical Disney transportation buses. The Expo center is where you go to collect your bib, t-shirt, and any preorder items you may have purchased when registering for the race. It's also the only way to purchase the official runDisney merchandise for the event. I didn't purchase much, since I was only running the 5k and didn't want to be a pleb walking around in a challenge shirt when I wasn't doing the challenge.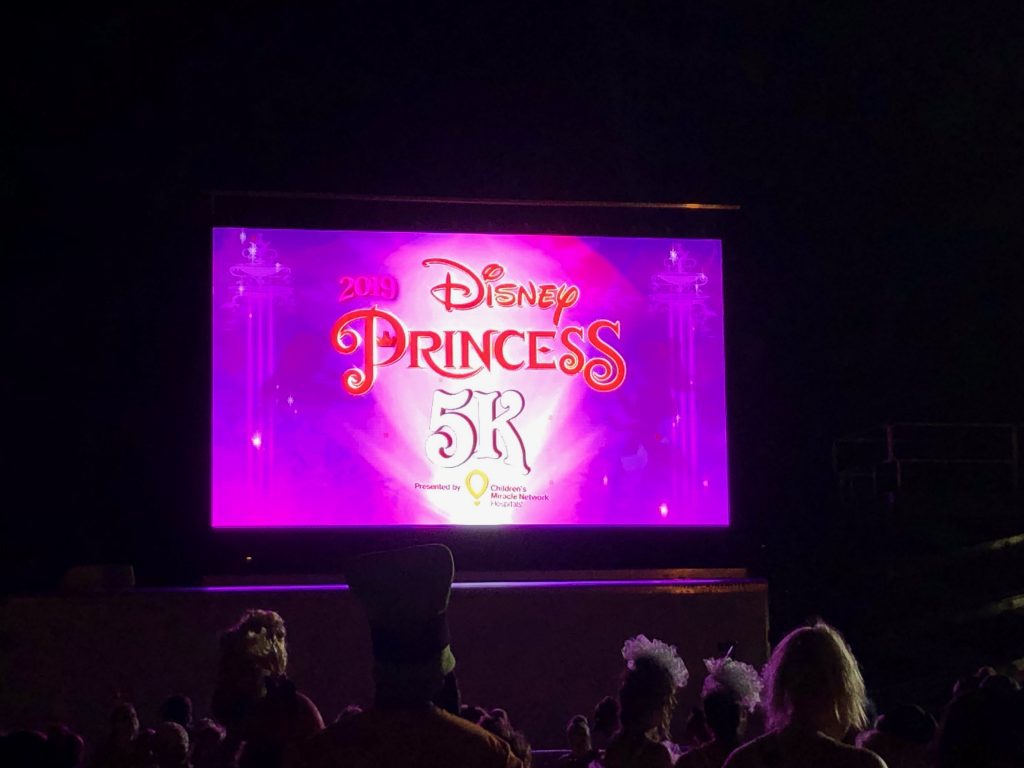 We woke up the following morning at 2:45am. Mom wanted to wake up more around 2am, but I wasn't going to let THAT happen. We needed to be outside and ready to hop on a bus by 3:30am. The race didn't start until 5:30am, so I didn't understand why until we got there and saw what was up.
Essentially, you get on the bus and head to the staging area for the race. The staging area has bleachers, entertainers hyping everyone up, food, beverages, medical care, etc. You won't immediately be pushed into your corral. This gives you time to use one of the many porta-potties available and possibly get in line to meet some characters. Make sure to use the restroom… trust me! You can stop and use the ones in the parks, but on longer races, be prepared to have to peel off for questionable portable potties.
Ideally though, you want to head right for your corral as soon as the gates open up. The reason for this is simple: in timed races, you want to have as much lead time as you can get over the "balloon ladies." Thankfully, the 5k isn't timed. I opted to only do the 5k this weekend so I could feel out runDisney before committing to more, as they aren't cheap. I also only opted to do the 5k, because I didn't want to be a disgruntled sloth while also trying to show my mother around the parks after 2:45am wake-up calls 3 days in a row.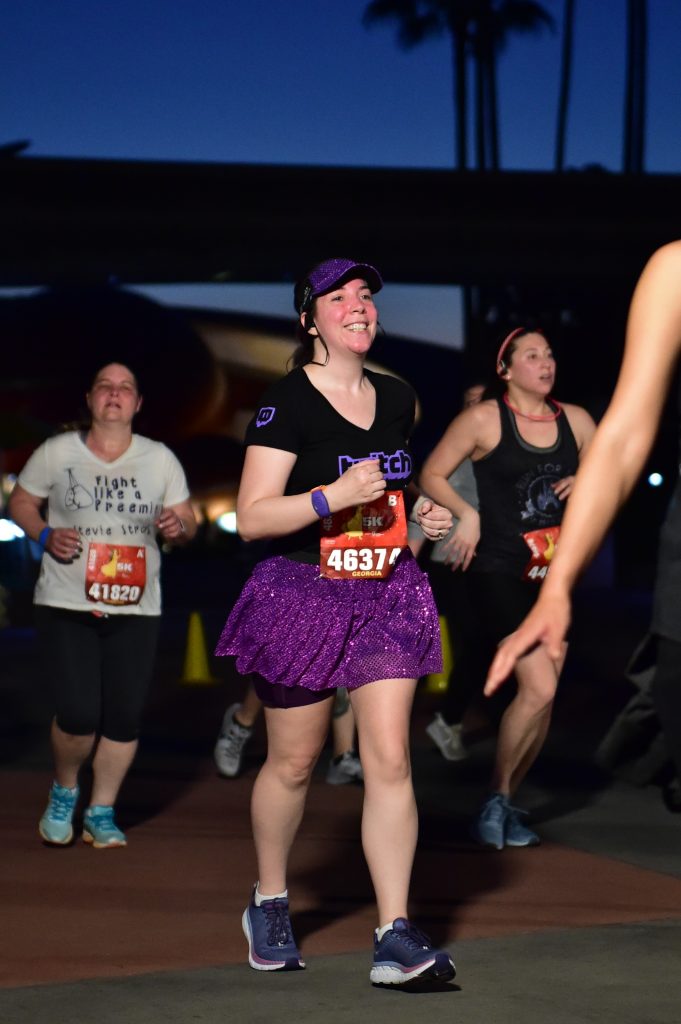 The race started at 5:30am, but being in corral B, one of the first few waves, we didn't start until just after 6:00am. runDisney will release people in waves for safety reasons. Believe me, there's a lot of people! For the 5k, a lot of people walk; however, I sank a lot of money and time into training and having good gear. Plus, I dressed as a pretty pretty Twitch princess. I didn't want to walk. I wanted to RUN.
Our wave pulled up to the start line, the fireworks went off, and as I crossed, I began to run, and I didn't stop. 
When you're training, you're in your neighborhood, on a track, or on a gravel track behind your office building because god forbid you use the gym treadmill. Training is boring. Disney isn't. People were happy, walking, strolling, power walking, prancercizing their way around Epcot with the biggest grins on their faces. Fun costumes and volunteers cheering you on with cowbells and whistles were at every step to greet you and push you forward. The energy was palpable.
I walked only a little bit of the full 3.1 miles I had to cover. As the route took a sharp left at Test Track, I slowed down to a walking pace, because the concrete there was wet and people were slipping. It was dangerous and I didn't think it was worth the risk to shave 30 seconds off my pace.
I ended up finishing the whole thing in 38 minutes. I kept up a 12:37 minute mile pace. That's pretty darn good, seeing as how in all of my training, Runkeeper and my Apple Watch kept telling me I was more a 13:30 minute mile. I don't think I'd push myself this hard at the 5k level if I was going to do the 10k and the Half marathon throughout the weekend though. That would have been a bit dumb for a newbie runner.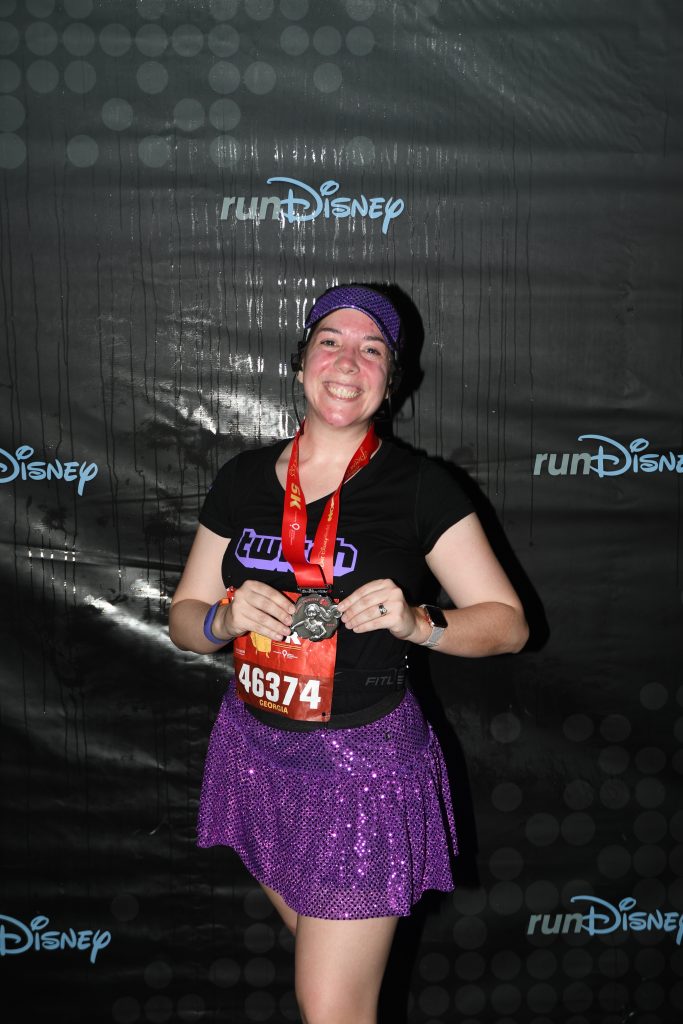 I'm absolutely in love with runDisney and look forward to going back in April for the Star Wars Rival Run. I've signed up for all three races and the virtual, so I should walk away with six medals that weekend! I only have a mere 33 days left to get trained up. A full VOD of my review can be found here: 
As far as lessons learned, here's a list of what I took away from this weekend: https://www.twitch.tv/videos/388594660
HYDRATE – depending on where you're from, training is likely under different conditions than murky Florida weather. It was pretty darn hot and humidity levels were above 90%. Even being from Texas, I wasn't prepared for the humidity. Drink lots of water, consume electrolytes leading up to the race weekend. Remember: plants crave electrolytes!
If you're of the female persuasion, or just love skirts, grab Spark Skirts. My mother and I bought four during the expo and wore them through the weekend. Seriously the best thing ever. The compression shorts underneath have pockets large enough to fully hide an iPhone 8s Plus.
Go to bed early. I regret not hitting the pillow until 10pm on Thursday night. From now on, it'll be an 8pm lights out for this runner!
Eat a protein bar or banana before heading out to the bus, or while waiting for the corrals to open. You don't want to eat it too close to the start time, because you want food to settle, but it'll help on a longer run. Even with the 5k, I felt a bit weak there at the end and scarfed back the food box at the end.
Lots of people walk. Do not feel ashamed if you have to stop to rest. It's a fun run, not a run for money or prizes. If this were a timed race (10k+) you'd need to keep a 16 minute mile. That's a literal walking pace. You'll be fine.